Rob McNealy's Curriculum Vitae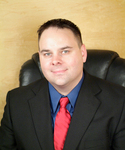 Flooristics, LLC
P.O. Box 91171
Salt Lake City,
84109
Phone: (801) 574.0387
Fax: ()
Career History
EXECUTIVE SUMMARY
Robert L. McNealy has 10 years of experience in the flooring industry, as a contractor, certified inspector, walkway auditor, and expert witness. He has inspection training in hardwood, laminate and resilient flooring, as well as substrates and subfloors. As a contractor, he has direct experience with the installation of all major types of floor coverings in both residential and commercial settings. With a Master of Business Administration degree, and experience in government contracting, Mr. McNealy is well versed in contract and scope of work analysis. His experience with architectural and interior design planning has honed his ability to properly specify floor coverings for different applications, and his background in site and floor safety has guided his passion for creating for safer walkways.

RELEVANT WORK EXPERIENCE
Institute for Walkway Audit Certificate Holders (IWACH), 2015 – Present
Mr. McNealy founded, and serves as the President of IWACH, a national trade association for walkway audit certificate holders. IWACH's mission is to build a cohesive and professional community devoted to supporting walkway audit certificate holders in developing their walkway auditing skills and practices.

Flooristics, LLC, 2014 – Present
As the founder of Flooristics, Mr. McNealy leverages his years of floor industry experience to serve as a certified floor inspector, expert witness, and walkway auditor. He specializes in slips, trips, and falls, floor system defects, walking and working surfaces, moisture and humidity testing, subfloor/substrate failures, and ASTM, ANSI, and OSHA standards.

Knightia, LLC, 2012 – 2014
As an Expert Witness and Floor Inspector, Mr. McNealy performed commercial and residential floor inspections. He expanded the scope of his practice to include resilient and other hard surface flooring as well as carpet. He successfully completed walkway auditor training through the National Floor Safety Institute and became a certified walkway auditor.

Natural Wood Floors, LLC, 2005 – 2011
As the founder of a custom flooring company, specializing in both commercial and residential clients, Mr. McNealy oversaw the installation of hundreds of thousands of feet of flooring in a variety of environments. He managed multiple flooring crews, and negotiated recurring contacts with numerous builders and restoration companies.

Mr. McNealy's expertise and reputation led him to become a hardwood flooring expert for the Tom Martino Troubleshooter radio show. On behalf of the show, he regularly inspected floors and assisted with mediations between contractors and radio show listeners.

After gaining experience with the inspection and resolution process, Mr. McNealy became a National Wood Flooring Association certified wood flooring inspector, and began providing certified inspections and expert witness services.

Energy and Environmental Technology, Co. (EETCO), 1997– 1998
As the Field Engineer and Site Safety and Health Officer, Mr. McNealy managed a $3,500,000 Superfund project for the Army Corps of Engineers, supervising a crew of forty environmental contractors, and completing the project on schedule, within budget, and with no major injuries. In this role, he was responsible for designing the site safety and health management plan with the certified industrial hygienist, and for developing and maintaining an environmental monitoring data warehouse. Mr. McNealy's analysis of the project site revealed an error in the scope of work which led to a $350,000 contract modification in EETCO's favor.

Certifications
Additional Certifications
•Walkway Audit Certificate Holder (WACH) (2014-Present) NFSI
•Certified IFCI Flooring Inspector (2014-Present) IFCI - #136
•Certified Resilient Flooring Inspector (2014-Present/Probationary) IICRC - #207109
•Certified Wood and Laminate Floor Inspector (2014-Present) IICRC - #207109
•Certified Substrate Subfloor Inspector IICRC - #207109
•Certified Carpet Cleaning Technician (2014-Present) IICRC - #207109
•Certified Walkway Auditor (2013-2014) NFSI
•Certified Wood Floor Inspector (2008-2010) NWFA - #370326
•Flooring Contractor (2005-2012) State of Colorado
Formal Education
Colorado State University (2001-2003) Denver, CO
Master of Business Administration (MBA)
Major: Strategic Management

Central Michigan University (1993-1997) Mt. Pleasant, MI
Bachelor of Science (BS)
Majors: Geography (Landuse Planning/Environmental Analysis)
Minor: Marketing

International Studies
St. Patrick's College (National University Ireland) (1997) Maynooth, Ireland





Industry Training Seminars
•Walkway Audit Certificate Holder (WACH)Training (2014) NFSI – Southlake, TX
•IICRC Resilient Flooring Inspector (2014) Flooring Technology Institute – Arlington, TX
•IICRC Intro to Substrate Subfloor Inspection (2014) Flooring Technology Institute – Arlington, TX
•ARDEX Underlayments and Toppings Training Seminar (2014) ARDEX Academy – Mansfield TX
•ARDEX Moisture Control Systems Training Seminar (2014) ARDEX Academy – Mansfield, TX
•IICRC Carpet Cleaning Technician (2014) Bridgepoint Systems – Salt Lake City, UT
•Advanced Spot and Stain Removal (2014) Bridgepoint Systems – Salt Lake City, UT
•Wood Floor Care (2014) Bridgepoint Systems – Salt Lake City, UT
•IICRC Wood and Laminate Floor Inspector (2014) Flooring Technology Institute – Pittsburgh, PA
•IICRC Intro to Substrate Subfloor Inspection (2014) Flooring Technology Institute – Pittsburgh, PA
•Wood Science for the Flooring Inspector (2014) The Floor Education Guild – New Orleans, LA
•Resilient, Bamboo, Cork and Engineered Inspection (2013) IFCI – Sundance, WY
•Walkway Auditor Training (2013) NFSI – Southlake, TX
•Floor Covering Inspector Training (2013) IFCI – Sundance, WY
•Large Format Tile and Surface Preparation (2013) NTCA – Sundance, WY
•Resilient Flooring Inspection School (2012) Johnsonite – Los Angeles, CA
•Course 101: Engineered Wood Basics (2011) Engineered Wood Association – Aurora, CO
•Sand and Finish School (2011) Bona Kemi – Aurora, CO
•NWFA Advanced Hardwood Flooring Inspection School (2008) Howard Brickman – St. Louis, MO
•Job Hazard Analysis (1998) Wausau Insurance – Hastings, NE
•Accident Potential Recognition (1998) Wausau Insurance – Omaha, NE
•Construction Quality Management (1997) Army Corps of Engineers – Fort McCoy, WI
•AHEARA Asbestos Abatement Contractor/Supervisor (1997) META – Lawrence, KS
•Nebraska Rules & Regulations Governing Asbestos (1997) META – Lawrence, KS
•HAZWOPER (1997) Metro Occupational Trainers – Livonia, MI

Industry Association Memberships
PROFESSIONAL AFFILIATIONS
•Institute for Walkway Audit Certificate Holders (2015 – Present)
•Institute for Inspection Cleaning and Restoration Certification (IICRC)(2014 – Present)
•National Floor Safety Institute (NFSI) (2013 – Present)
•Institute for Floor Covering Inspectors (IFCI) (2012 – Present)
•Arapahoe Community College Interior Design School Board of Advisers (2009)
•American Society of Interior Designers (ASID) (2007)
•Troubleshooter Referral List (2006 – 2011)
•Better Business Bureau (BBB) (2005 – 2011)
•National Wood Flooring Association (NWFA) (2005 – 2010)




Commercial Sites Inspected
Cities Inspected